Features
Feature rich yet simple to use
A powerful yet user-friendly tool designed to help you create sitemaps quickly and easily. Import your website using crawling and get started right away. Record all your actions to undo, redo, or restore a specific version of your sitemap. Maximize your efficiency and workflow with keyboard shortcuts.
Create rough drafts of your website's layout and structure with wireframes and blocks. Keeping things organized with separate sections. Export your sitemap in any format you prefer, including PDF, PNG, text, and JSON.
It is easier than ever to create beautiful sitemaps in no time.
Import your website
Creating a sitemap has never been easier. Just enter your website address, and we'll do the rest. We'll crawl your website, extract all the necessary information, and generate a sitemap that complies with search engine standards.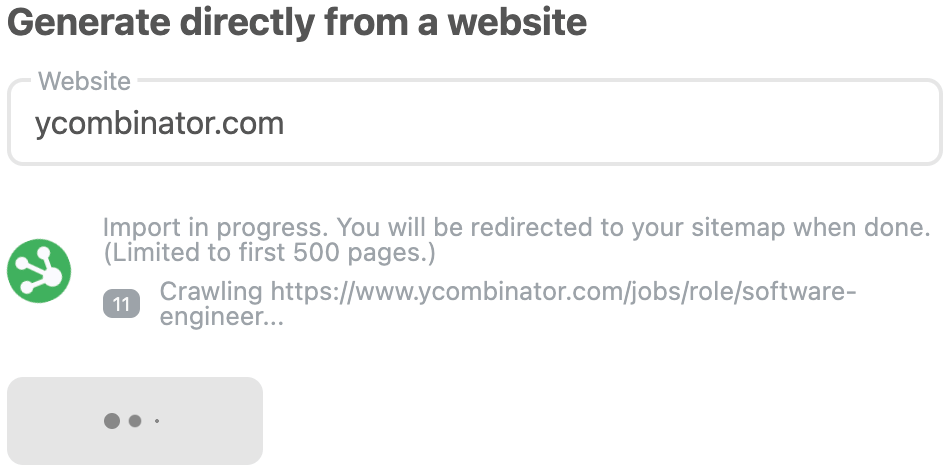 Keyboard Shortcuts to maximize your efficiency and workflow!
Our keyboard shortcuts can help you be more productive and get more done in less time. Give it a try and see how much time you can save - and how much more you can accomplish!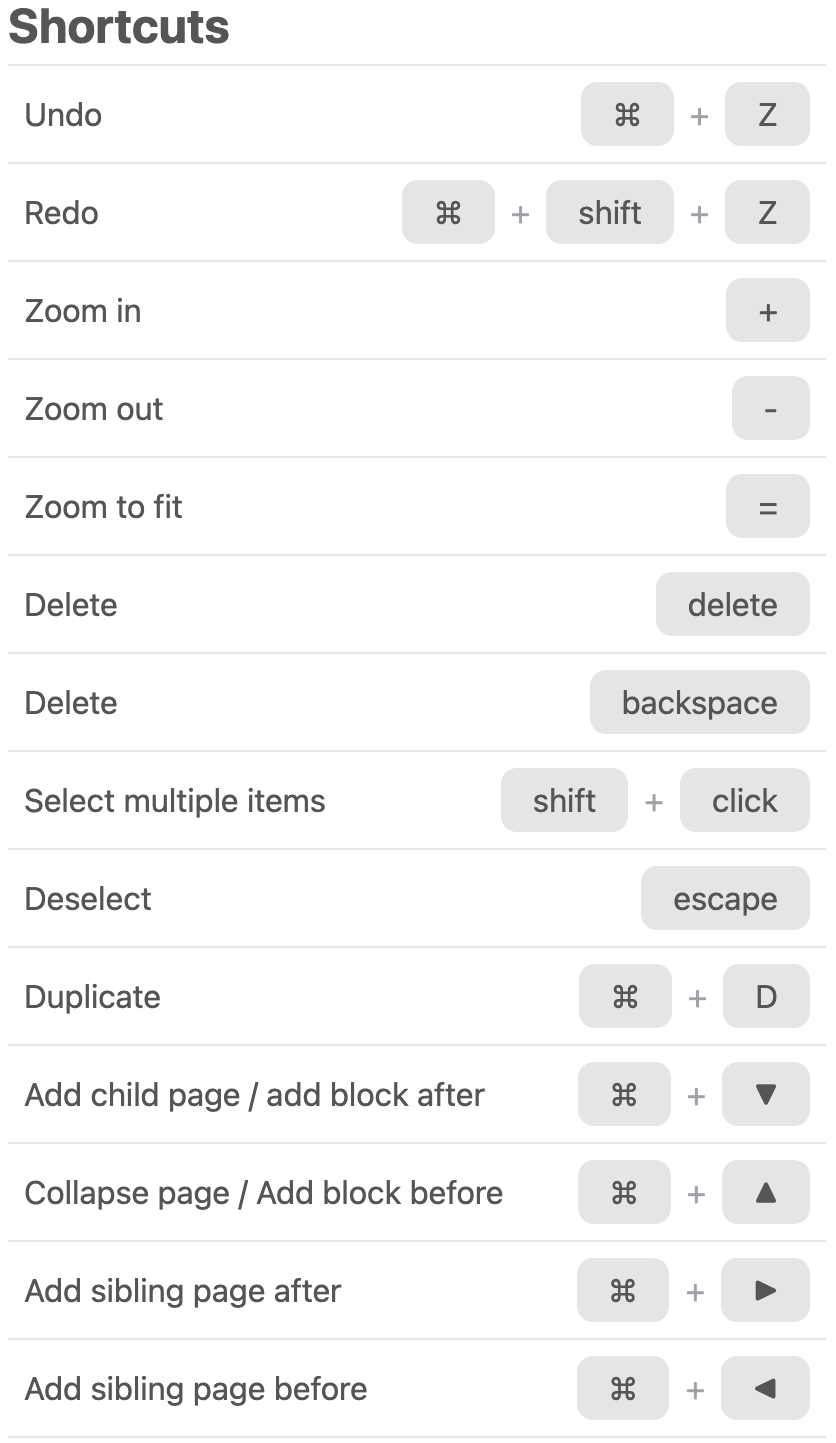 Time Travel with Project History
We know it's easy to make mistakes or change your mind. That's why we've created a project history feature that records all your actions and allows you to undo, redo, or restore a specific version of your project. This gives you complete control over your project, even after it's been completed.
Undo, redo, or restore any version of your project, recorded automatically to provide complete control and easy navigation. Improve your project management and productivity with our user-friendly interface, and never worry about mistakes or lost progress again. Try it now!

Separate Sections to keep things organized
Keep things organized and easily understandable for both you and your team.
Quick Prototyping with Wireframes
Create beautiful sitemaps quickly and easily. With wireframes, you can quickly create a rough draft of your website's layout and structure. Our blocks feature allows you to easily add pre-designed elements to your sitemap, such as headers, footers, and navigation bars. With our color picker tool, you can choose the perfect color scheme for your website, and our drag-and-drop tools make it easy to arrange and customize your sitemap.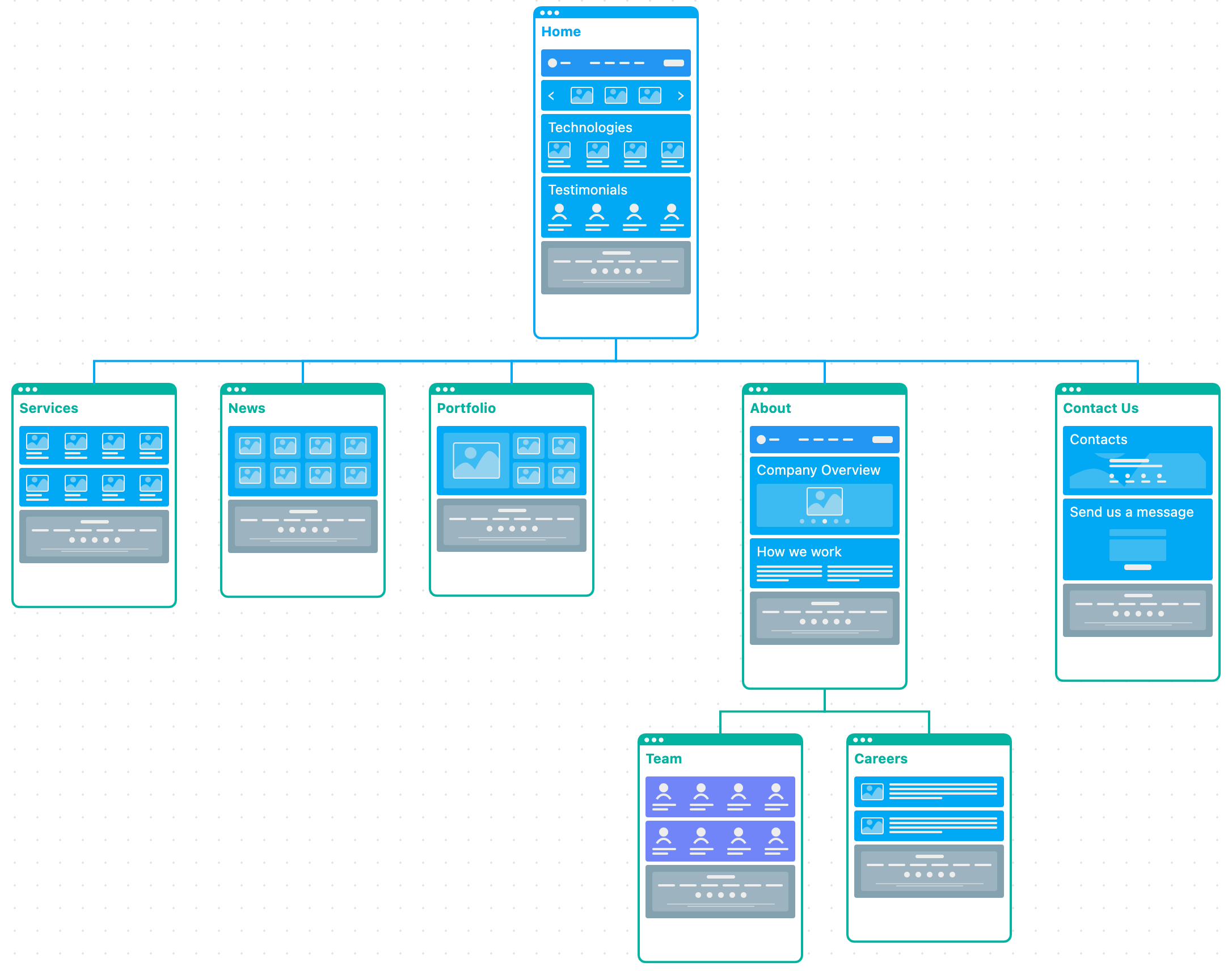 Viewing modes
Different Views for Productivity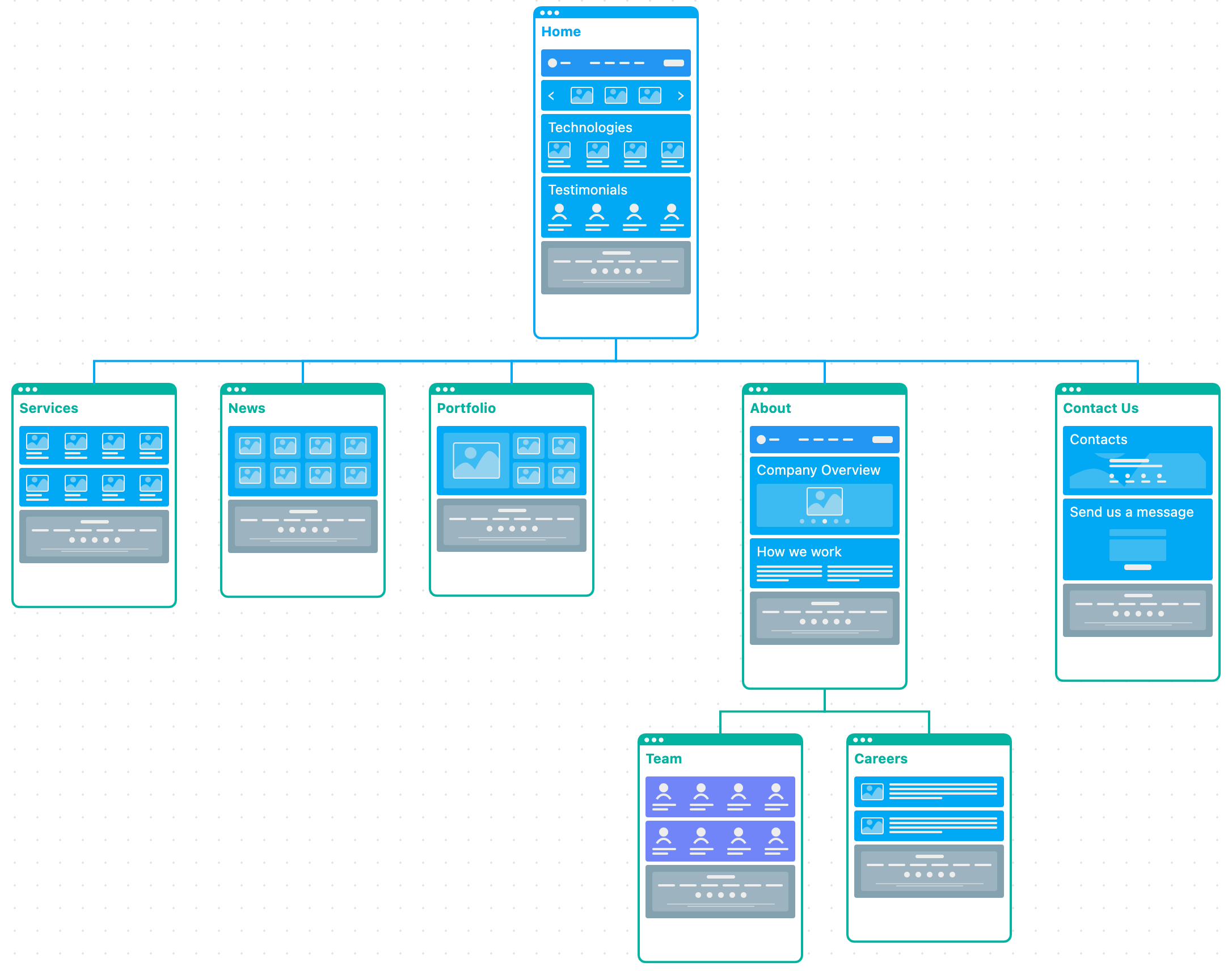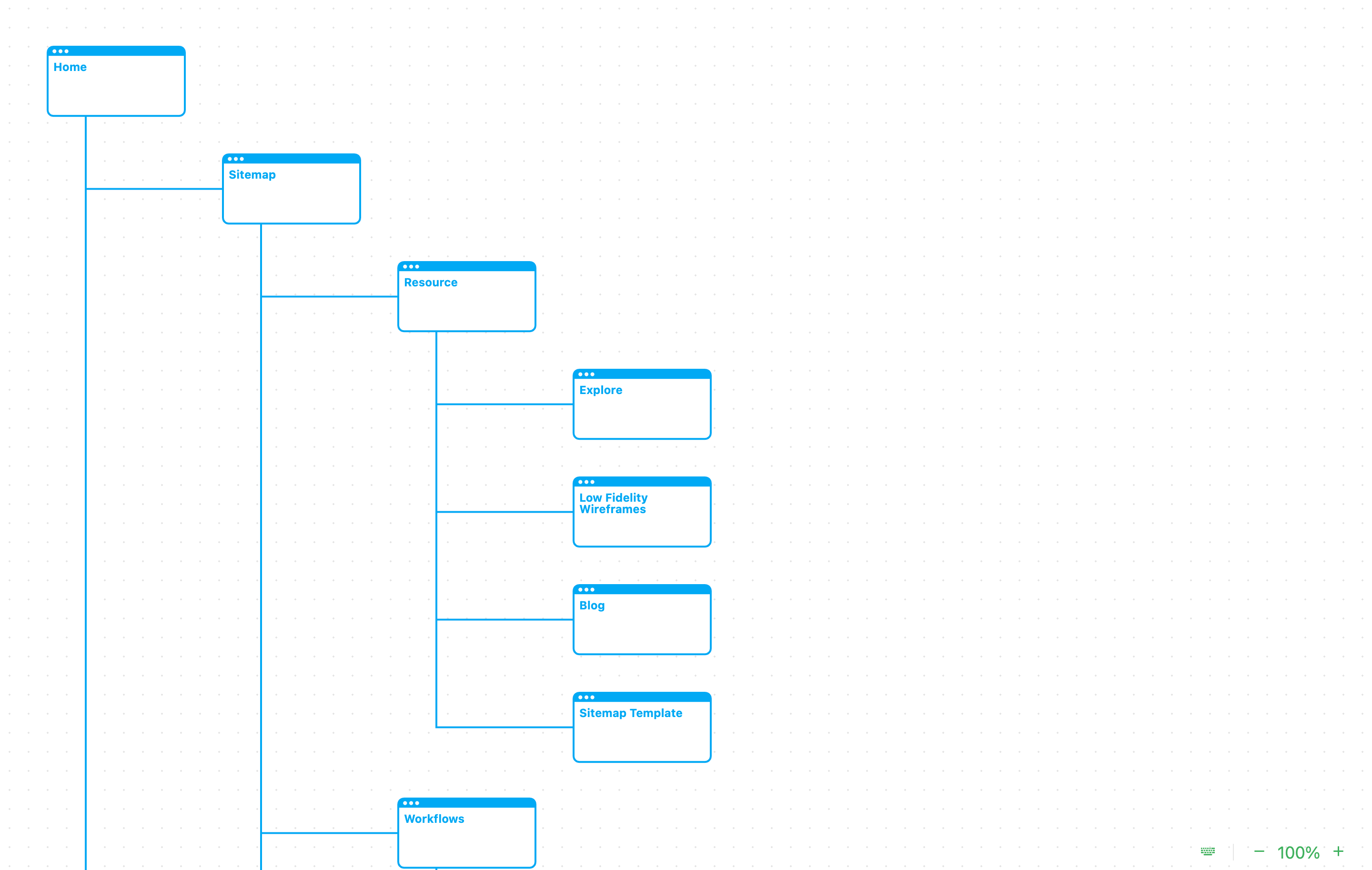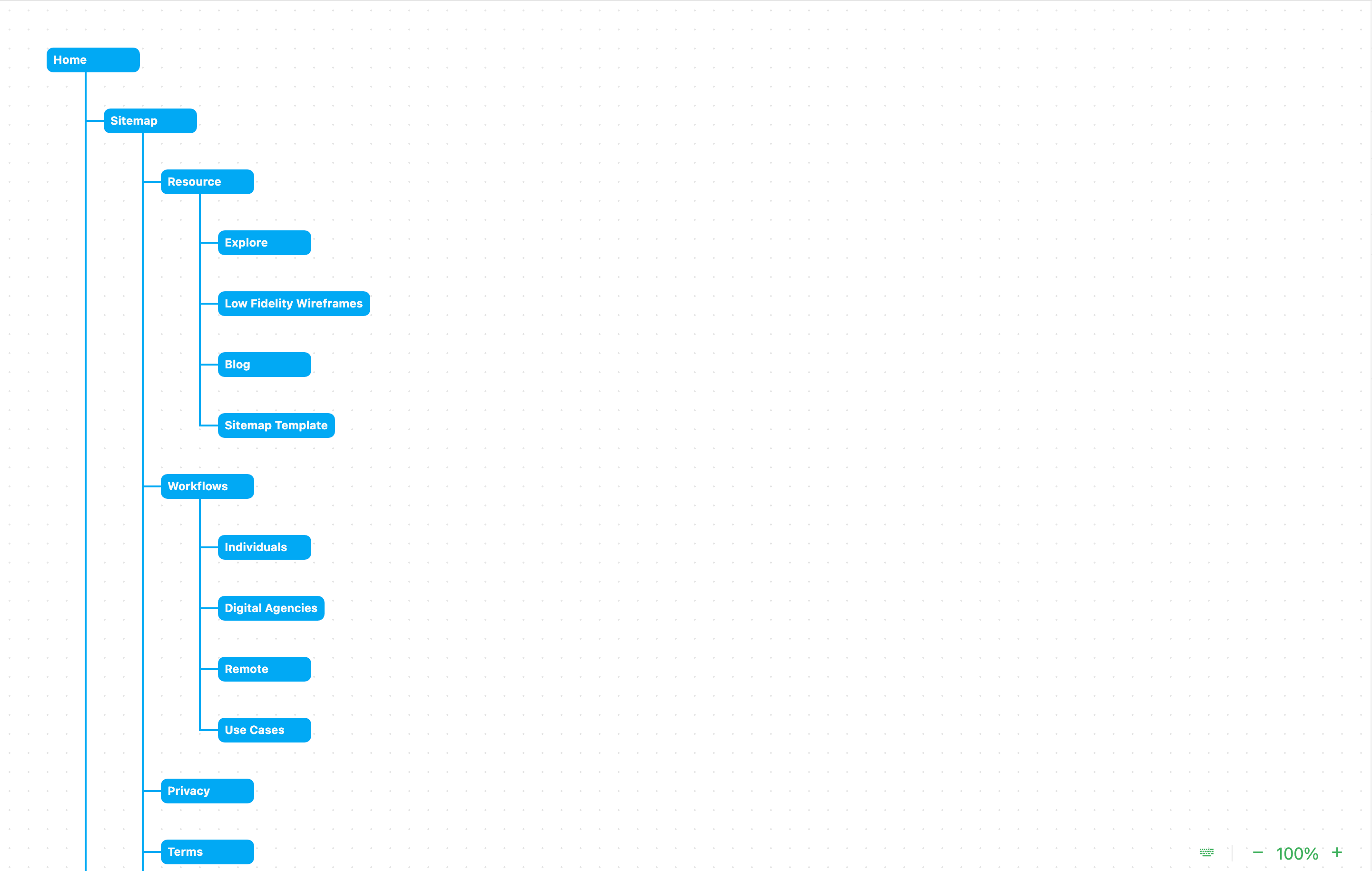 EFFORTLESS EXPORT
Export your Sitemap in any Format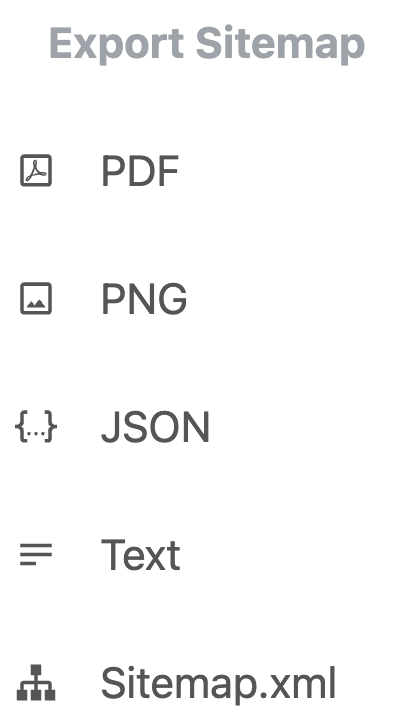 Generate sitemap.xml files that comply with search engine standards, making it easier for search engines to crawl and index your website. Improve your search engine rankings, increase traffic, and ultimately grow your online presence.
Effortlessly create sitemaps and download them various formats, with easy-to-use interface and intuitive visual tools.
Download your sitemap in PDF format for easy printing and sharing, or in PNG format for use in presentations.
Download your sitemap in Text and JSON formats, making it easy to import your sitemap data into other applications or platforms
Comments
Real time chat with your team
Everything you need to plan, create and collaborate on your website with ease. Start using our powerful tools to take your website to the next level, while keeping your team in the loop every step of the way. Collaborate with your team in real-time, to communicate with your team members and share your website planning progress. Easily invite team members to your project and work together to plan your website structure, ensuring that everyone is on the same page.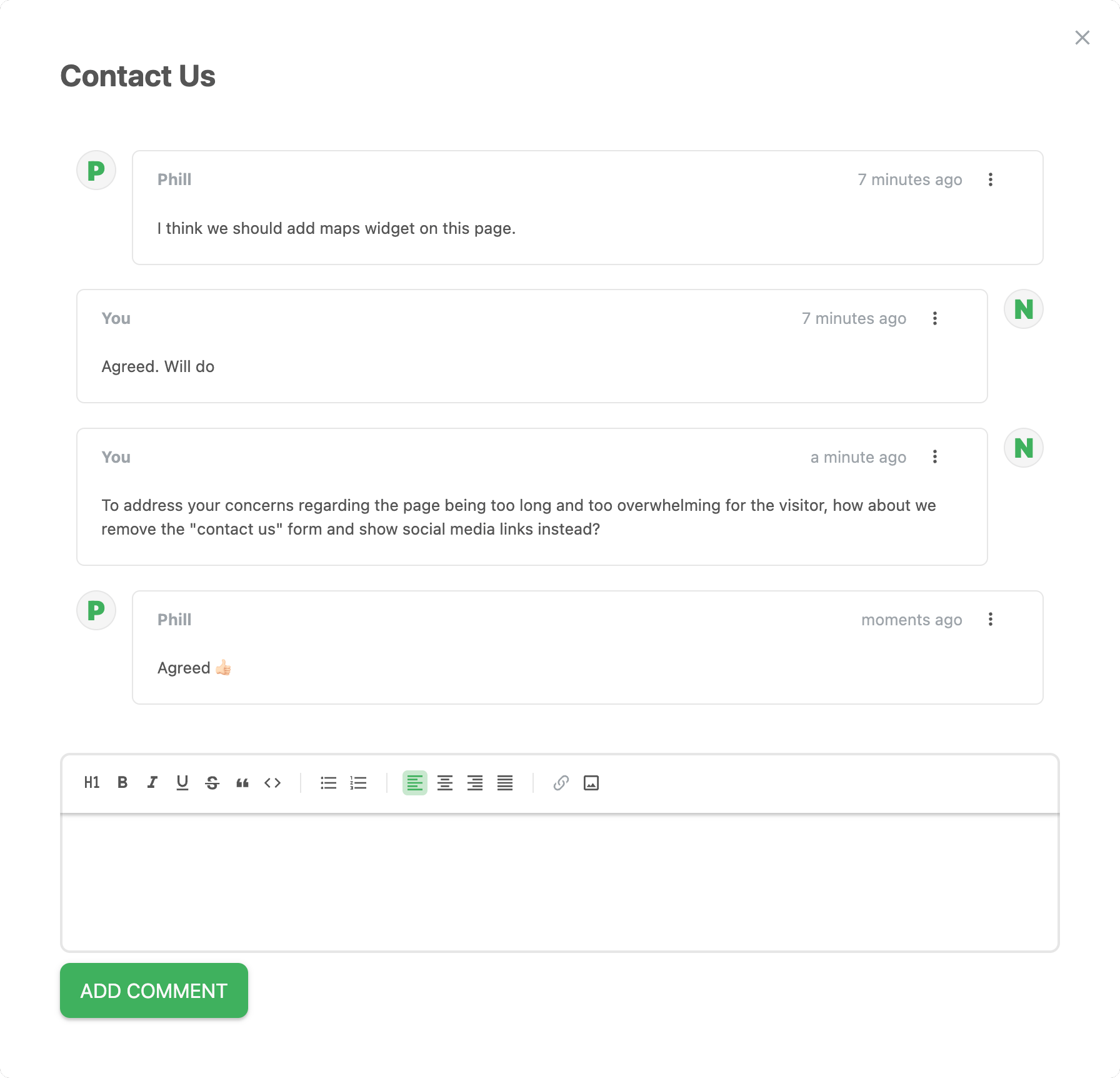 Import sitemap.xml
Generate Sitemap from sitemap.xml file
FigMaps offers a hassle-free way to generate a sitemap from an existing sitemap.xml file. With just a few clicks, you can import your sitemap.xml file and generate a new sitemap that meets your specific needs. Our user-friendly interface makes it easy to navigate and customize your sitemap to suit your website's requirements. Easily generate a sitemap that conforms to SEO best practices, ensuring that your website is easily discoverable by search engines.
Minimap
Minimap for Large Projects So You are Never Lost
Stay on track and never lose your way! With minimap, you can get a bird's eye view of your entire project and easily navigate to the section you need. This feature is especially helpful for large projects, where it can be easy to get overwhelmed and lose track of where you are. Minimap ensures that you always have a clear sense of the big picture and can easily move between different sections of your project.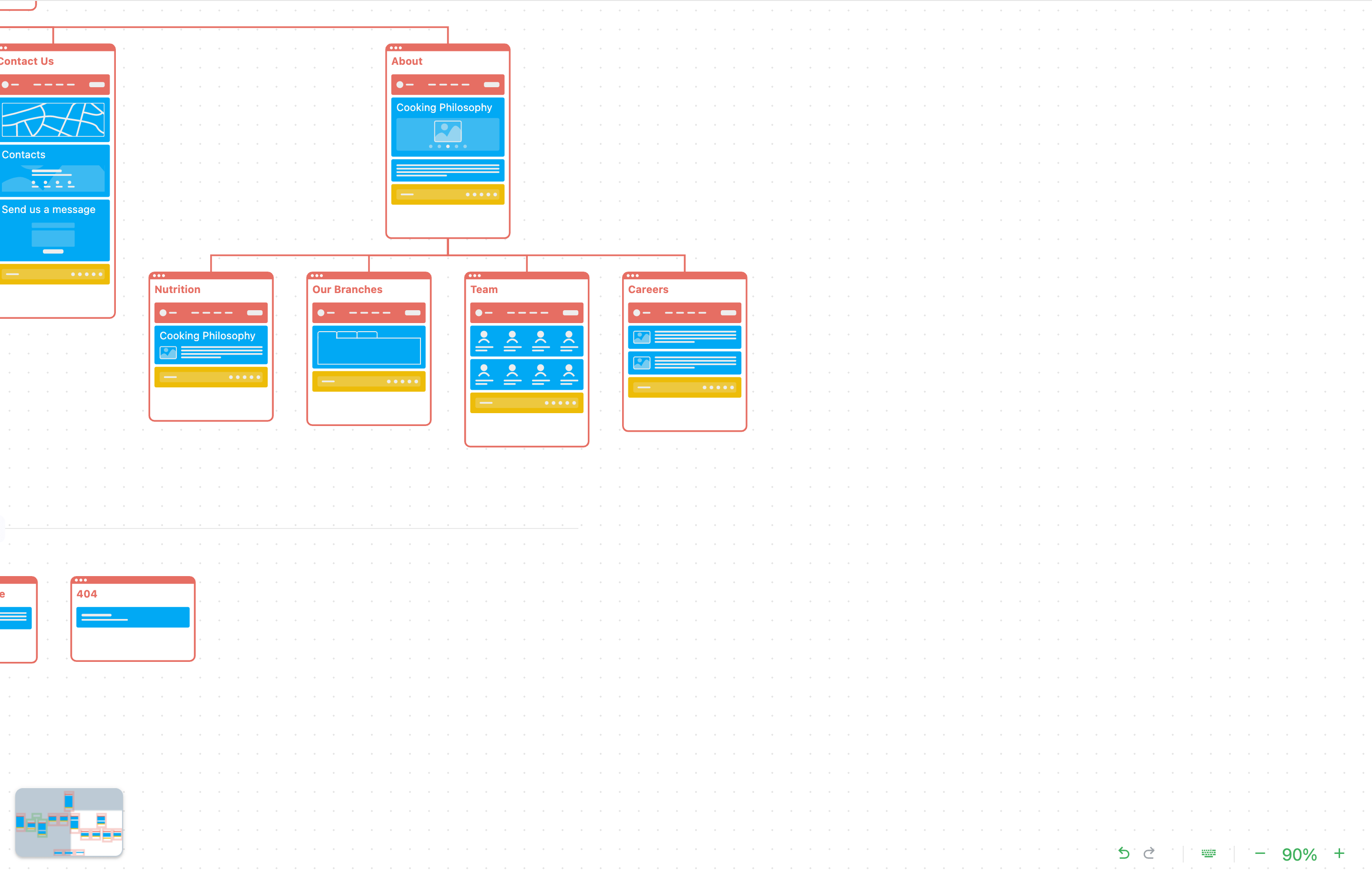 Templates
Quick Start with Pre-built Templates
Jumpstart your project and save time and effort with pre-built templates. You don't have to start from scratch or design your project from the ground up. Instead, you can choose from a range of high-quality templates that have been professionally designed to meet the needs of a wide range of industries and use cases. And of course, FigMaps is designed to be easy to use, so you can quickly and easily customize your chosen template to make it your own.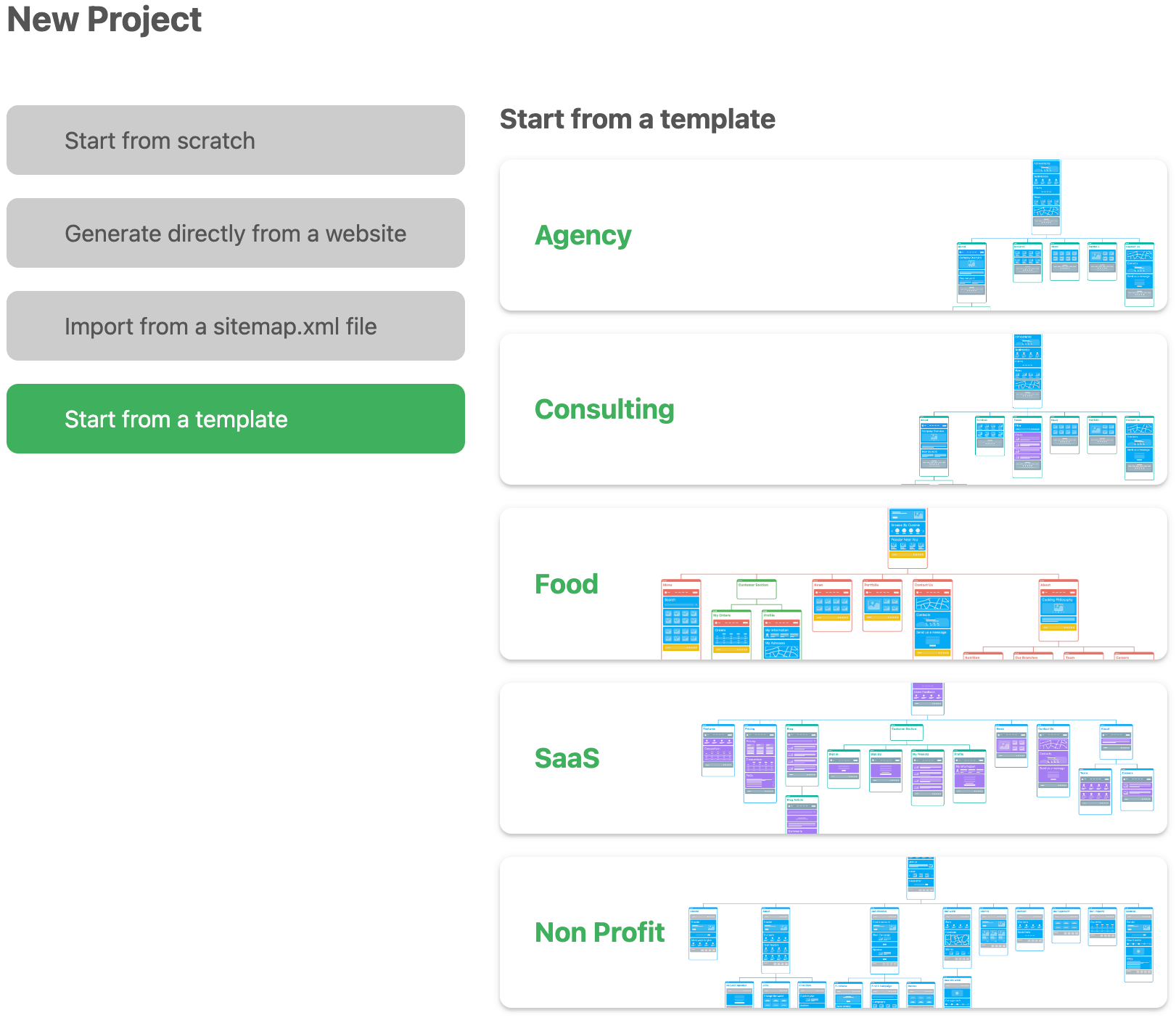 Wireframes
Prototype Quickly with 50+ Wireframes
Streamline your website planning and prototyping process with 50+ wireframes. Our extensive collection includes wireframes for menus, covers, product listings, carousels, sliders, sections, articles, content blocks, cards, footers, links, buttons, portfolios, galleries, chat interfaces, forms, subscriptions, sign-in pages, contact us sections, pagination, timelines, FAQs, maps, pricing tables, tables, breadcrumbs, tabs, features, videos, team pages, product cards, profiles, quotes, ratings, search bars, dropdowns, audio players, bar charts, pie charts, and line charts.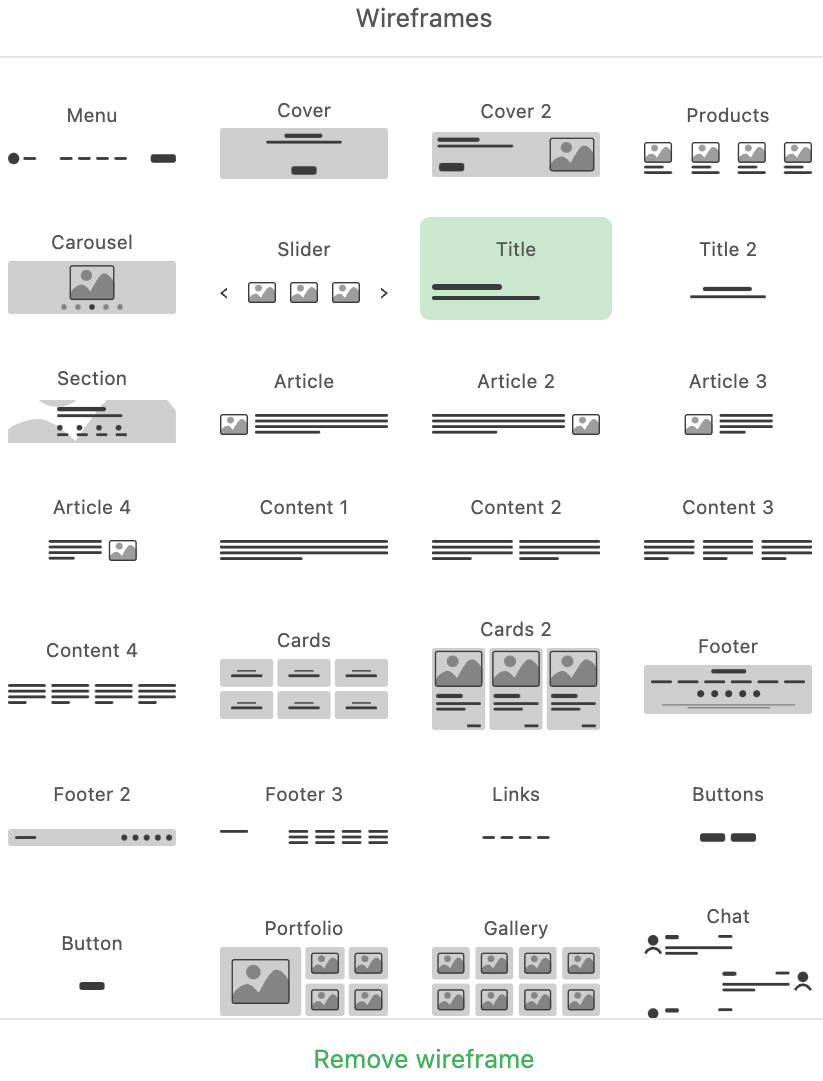 Quick Signup
Start Prototyping
Our signup process is designed to be simple and straightforward. All you need to do is provide a few basic details, such as your name, email address, and a password, and you'll be ready to go.
Login as guest